Plans submitted for major Leeds flats and retail project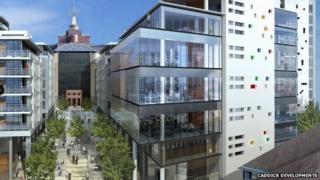 Plans to transform a derelict area of Leeds with hundreds of multi-storey flats, offices and restaurants have been submitted to the council.
Caddick Developments wants to build 750 flats, a medical centre, cafes and restaurants in Quarry Hill.
The area, between the West Yorkshire Playhouse and Quarry House, could see buildings of up to 15 storeys.
The plans were granted permission in principle 10 years ago but never progressed.
The proposal is for six buildings, four of which could be residential, the developers have said.
There is also the possibility of student accommodation, bars and restaurants on the site.
A paper updating councillors on the progress of the planning application will go before the council's city planning panel on 22 January.