New West Yorkshire police team tackles human traffickers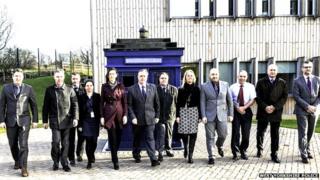 A specialist team of detectives has been formed to tackle gangs involved in human trafficking across West Yorkshire.
The Human Trafficking Unit is led by a detective inspector and will target "organised crime lords".
Last year, West Yorkshire Police dealt with 84 human trafficking victims, double the amount of 42 in 2013, the force said.
The new department has 11 officers and a two-year £750,000 budget.
It will work as part of the county's Serious and Organised Crime Unit (SOCU) investigating all aspects of trafficking and exploitation.
Scale of problem
Det Ch Insp Warren Stevenson said: "Human trafficking is a vile crime, and the resources we are dedicating to this new unit makes clear how determined we are to tackle it and bring those responsible to justice."
The number of referrals showed both the scale of the problem and that victims were "more willing to come to us", he said.
Mr Stevenson said the new unit would "complement the work already going on within West Yorkshire Police, but provide extra support for complex cases".
He added: "What this new team will do is give us extra capability to investigate the larger organised crime gangs bringing trafficking victims into our region, and to provide extra support to divisions managing human slavery investigations locally.
"By managing these cases through our Serious and Organised Crime Unit, we can ensure all the resources we bring to bear to investigate the most complex conspiracies can be used to target traffickers operating at a national and international level."
Senior officers will work with the charity Hope for Justice to train police staff on the signs of trafficking.
The Christian charity rescues victims of trafficking and provides restorative care. It also provides training on how to tackle slavery for police forces and other professionals.
It operates in the UK, US and Cambodia.