Leeds special constables praised for river rescue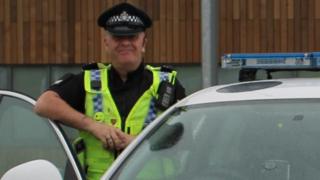 Two special constables have been praised for pulling a woman to safety from the River Aire in Leeds.
Mark Speeding and Richard Johnson had responded to reports the woman had fallen into the river near Riverside Court at midnight on Friday.
The 22-year-old woman was treated in hospital for minor injuries.
West Yorkshire Police said the officers had acted "quickly" in freezing conditions in a situation that could have had fatal consequences.
Supt Sam Millar said: "'The actions of the two special constables epitomises the values of officers and staff who put themselves in dangerous situations to help other people and protect members of the public."