Educating Yorkshire teacher Neil Giffin had sex with ex-pupils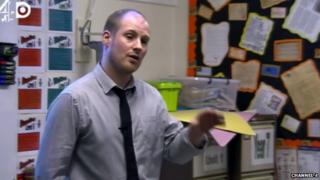 A teacher who appeared in Educating Yorkshire has been barred from teaching after having sex with two ex pupils.
The National College for Teaching and Leadership found Neil Giffin, 35, head of humanities at Thornhill Community Academy, near Dewsbury, slept with ex pupils from his old school.
Mr Giffin admitted relationships with former pupils from Bishop Heber High School in Malpas, Cheshire between 2007 and 2008.
He has been banned indefinitely.
Mr Giffin taught at the Cheshire school between 2003 and 2012.
From 2012, he was employed at Thornhill until his resignation on 14 April last year. He was earlier suspended by the academy on 24 January 2014.
He told one former Bishop Heber pupil on Facebook - where he used pseudonyms including Guy Andre and Chelsea Smith - that he was jealous of her because she "looked good in tights" and he wanted to wear them.
The panel found he had sex with Pupil D when she was over the age of 18, starting a relationship with her following the Year 13 summer ball when she finished at Bishop Heber.
During an interview for a Thornhill Academy investigation into his conduct, he said the relationship had lasted "about six months".
The panel found Mr Giffin also had sex with Pupil E, but did not prove the relationship inappropriate because there was no evidence that the girl had been at Bishop Heber at the time Mr Giffin was teaching there.
Cross-dressing
Mr Giffin told the panel he met the girl on a night out in Chester after she had left.
After he started at Thornhill Academy, Mr Giffin began messaging former pupils from Bishop Heber.
He sent messages to Pupils A, B and C over Facebook using the aliases Guy Andre, Chelsea Smith, Frank Shepard and Alan Shepard.
He told Pupil A, who the panel described as "a vulnerable 17-year-old", that he was in a relationship and asked her what pupils thought of cross-dressing.
Mr Giffin also sent WhatsApp Messages to the girl saying he was jealous of her because she looked good in tights and that other girls in her class "looked sexy" in tights.
He told her that he was jealous because he also wanted to wear tights. In one of his messages Mr Giffin told the girl of a sexual fantasy he had about her.
The panel found the teacher's actions were "sexually motivated" and amounted to unacceptable professional conduct.
Mr Giffin said he had used false names to contact his former pupils because he "didn't want them to know who was looking at them".
He added that he had been drinking alcohol when he sent some of the messages.
The award-winning Channel 4 TV documentary Educating Yorkshire aired between September and December 2013 and followed the lives of teachers and pupils at the school.