Bradford's Tour de France £12m tourist boost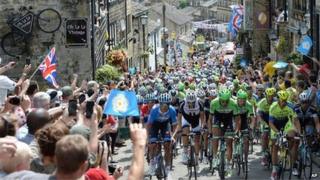 The Tour de France Grand Depart brought an almost £12m boost to the Bradford district in 2014, a report into the race's impact has found.
The research measured the economic and social impact over the 5 and 6 July, the Welcome to Yorkshire report said.
About 380,000 spectators watched around the Bradford area over the two days.
David Green, leader of Bradford Council, said: "This report is fantastic news and shows the Tour de France brought clear benefits."
Crowds at the roadside for the three English stages totalled 4.8m, with the fans generating £128m in total revenue, £102m of that in Yorkshire alone.
The Bradford report also shows local residents spent about £4 million over the weekend watching the race in the district.
There were 270,000 individual spectators but some watched both days of racing.
'Positive effects'
The report estimates some 150,000 spectators travelled into the Bradford district with about 1% being from overseas.
It found that £2.7m was spent on accommodation and £8.8m in visitor expenses.
Susan Hinchcliffe, a Bradford councillor, said: "The positive effects of the event are still being felt today.
"The report anticipates repeat visitors bringing yet more income into the district in the years to come."
A survey of spectators found 66% of visitors to Bradford for the race said they would now be more likely to visit Yorkshire, and 73% said they would be more likely to recommend Yorkshire to family and friends, according to the council.
The report was carried out by Welcome to Yorkshire and commissioned by Bradford Council.