Cherry-picker van hits Bradford railway bridge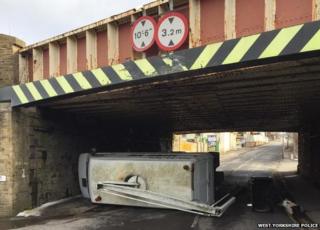 A cherry-picker van has crashed into a railway bridge in West Yorkshire causing delays to train services.
Police said the accident happened at about 09.35 GMT in Mill Lane, Bradford, near the Bradford Interchange.
Northern Rail said services were suspended from about 11.30 to 12.15 while Network Rail engineers inspected the bridge.
The road, which was closed to allow the vehicle to be removed, has since reopened. No-one was injured.