Leeds city centre flood alleviation scheme work starts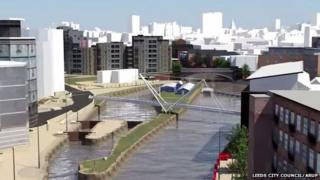 Work on the £45m Leeds Flood Alleviation Scheme is to start in the city centre.
The project on the River Aire will cover 2.7 miles (4.3km) between Leeds railway station and Thwaite Mills.
The work, designed to protect more than 3,000 homes and 500 businesses against a one-in-75-year flood on the river, is due to end by March 2017.
It includes the UK's first moveable weirs that can be lowered to reduce river levels, the council has said.
The scheme was given the go ahead in 2013. Work on the river began at nearby Woodlesford in 2014 and that stage has been completed.
Removes island
The moveable weirs, to be installed at Crown Point and Knostrop, consist of a row of steel gate panels supported on their downstream side by inflatable air bladders.
An island at Knostrop Cut will be removed to allow the river and canal to merge and create additional flood water storage.
Low-level flood defences in the city centre and around Hol Beck are also to be constructed.
The worst River Aire flood on record was in 1866 when water 3ft (1m) deep ran down Kirkstall Road into the city.
The largest recent event was in 2000 when water levels came within 4ins (10cm) of flooding the city centre.
There have been regular smaller floods in subsequent years, according to the council.