Leeds woman gets apology for 'unacceptable' NHS delay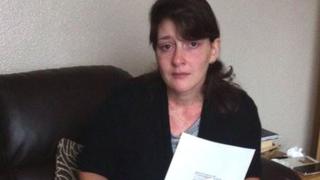 A woman with a painful condition of the womb who has waited a year for treatment has received an apology from the NHS for the "unacceptable delay".
Dawn O'Toole, from Armley in Leeds, has been waiting for a hysterectomy after her diagnosis in January 2014.
Ms O'Toole, who has endometriosis, still has no operation date.
Suzanne Hinchliffe, of Leeds Teaching Hospitals, said: "We would like to apologise to Ms O'Toole for the long delays she has encountered."
'Feel for kids'
Ms O'Toole says she is in "a lot of pain to the point where I can barely move".
She said she was waiting for a full hysterectomy and colon-rectal surgery.
"I feel more for my kids who are suffering from it because I can't do my usual stuff", the mother of three said.
Ms Hinchliffe, chief nurse and deputy chief executive at Leeds Teaching Hospitals NHS Trust, said the trust would be contacting Ms O'Toole to say sorry personally and discuss how to progress her treatment.
Ms O'Toole was seen for her initial treatment by a locum consultant who later left the trust, her case was then reviewed by a number of surgeons until her current consultant took on her case, according to Ms Hinchliffe.
"The clinical decision on whether to progress to the next stage of her treatment was therefore delayed and we acknowledge this was unacceptable", she said.
Although a decision was taken in December to admit Ms O'Toole the trust has been unable to confirm a date due to a "huge increase in emergency admissions in January", Ms Hinchliffe added.