Yorkshire Post site redevelopment plans get council approval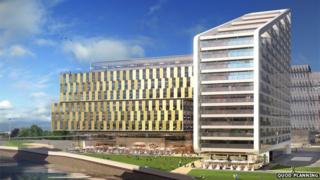 Plans for a major new development on the former Yorkshire Post site have been approved.
The newspaper's old building on Wellington Bridge Street in Leeds has been demolished to make way for the project.
Approval has been given for 200 homes and a range of other uses, including bars, restaurants and leisure facilities.
A total of four buildings will rise to a height of 16 storeys on completion.
Phil Crabtree, the council's chief planning officer, said the scheme was in a prominent location and would "act as a gateway to the city centre".
The Wellington Street offices were home to the Yorkshire Post and Yorkshire Evening Post for more than 40 years.
Director Tim Waring, of planning consultants Quod, said: "The council's support for this scheme will spark the early regeneration of this high profile site, bringing about a huge transformation to this part of the city."