Wakar Akhtar jailed for Bradford rape after Italy extradition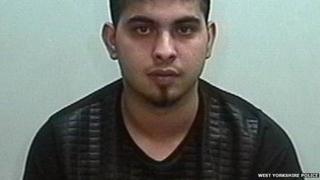 A rapist who fled the UK part way through his trial has begun a 17-year jail sentence after being extradited.
Wakar Akhtar, 21, of Hudson Avenue, Bradford, escaped to Italy in November and was convicted and sentenced in his absence for conspiring to rape a woman.
He was arrested in Italy and brought back to the UK earlier this month.
Akhtar appeared at Bradford Crown Court earlier. He is due to return there on 6 March for a hearing which will decide his punishment for fleeing the country.
Akhtar and three other men carried out the attack at Cousen Road recreation ground in Bradford.
Tamseel Virk, Azad Raja and Najim Ul-Saeed, all from Bradford, were also sentenced to 17 years in jail in November.
In January, Mohammed Raja, of Hudson Crescent, and Raja Sarwar, of Tern Street, Bradford, were jailed for four years for helping Akhtar flee.