Harrogate cancer patient calls for earlier test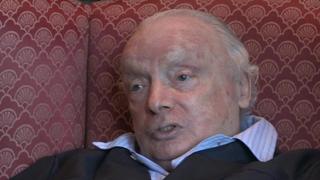 A man who visited his GP 19 times before he was diagnosed with cancer has called for better early diagnosis.
Mike Kirby, from Harrogate, is one of thousands of people whose cancer is missed by their doctor, according to an England-wide NHS survey.
Mr Kirby, who is terminally ill and receiving hospital treatment, said his situation could have been avoided if he had been diagnosed earlier.
NHS England said cancer survival rates are improving.
Mr Kirby was diagnosed with cancer in his colon, liver and lungs after he paid for private treatment.
He said his NHS GP had failed to spot symptoms of cancer and told him to take over-the-counter treatments.
"It took the best part of a year for it to be diagnosed," he said.
"Basically, my life's over, there's no going back. Very shortly it'll be over full stop."
'Slow progress'
Alexandra Dickinson said earlier diagnosis could have saved daughter Keely Devine, who died from cervical cancer 18 months ago.
Ms Devine was 20 when, soon after the birth of her son Jayden, she began to get bleeding and pains in her abdomen.
She was diagnosed with depression and a urinary tract infection and given antibiotics by her GP, Ms Dickinson said.
Over the next year and a half, Ms Devine went to the surgery in Leeds six times.
Finally, she was diagnosed with advanced cervical cancer. She died in hospital in September 2013.
'Willingness to test'
"I blamed myself for a long time," said Ms Dickinson. "But the doctors should have known."
A survey of GP performance conducted by the NHS in December 2013, found that 25% of people who were later found to have cancer had not been referred for tests or to a consultant.
Around 13,900 people die from cancer in Yorkshire and the Humber every year.
Sean Duffy, clinical director of cancer care, NHS England, said the the health service was not currently doing enough to help GPs identify cancer at an earlier stage.
"I think the most important element is about our ability and willingness to test," he said.
"The main differences between us and the best countries in Europe is access to diagnostic tests," he said.
Ms Devine's doctor declined to comment and Mr Kirby's GP has not responded to requests for comment.