Hamzah Khan: Police 'could not have prevented death'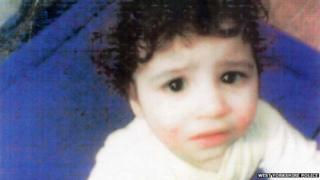 The death of a four-year-old left to decompose in his cot could not have been predicted nor prevented, the police watchdog has found.
The Independent Police Complaints Commission (IPCC) said West Yorkshire Police could not have "reasonably been expected" to stop Hamzah Khan's death.
But it criticised the force for failing to refer itself to the commission when Hamzah's body was found in 2011.
Mother Amanda Hutton was jailed for 15 years in October 2013.
No misconduct
A jury at Bradford Crown Court found she had allowed Hamzah to starve to death in December 2009 and left his body in a cot with a teddy for nearly two years.
At her trial, it emerged a range of agencies, including police, had contact with her family but no-one had spotted the danger to her children.
In a statement, the IPCC said Hamzah's body was discovered thanks to the actions of a community officer, who made "repeated and concerted attempts to speak to Ms Hutton".
Police had extensive contact with Hutton and her family over a number of years but mainly because she was a victim of repeated domestic violence.
The commission said there had been no misconduct by officers but criticised the force for not referring itself to the IPCC at the time the body was discovered.
IPCC commissioner Cindy Butts said: "The fact that this was not reported to the IPCC until after a serious case review had been completed in 2013 meant that that process was completed without any independent scrutiny of police action."