Leeds rapist attacked victim with a blunt object.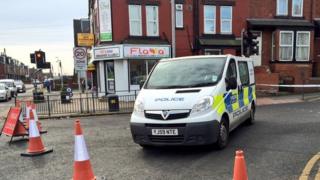 Police investigating the rape and attempted murder of a woman in Leeds have said she was knocked unconscious with a blunt object.
The 18-year-old was attacked while waiting at a bus stop on Beeston Road at 22:40 GMT on Friday.
Det Supt Nick Wallen said the victim was "very lucky" to have survived and described the attacker as a "very dangerous individual".
Police said they were looking for an Asian man in his early 20s.
Det Supt Wallen said the man crossed the road and approached the victim from behind.
"He forcibly picked her up, pulled her into the garden behind the bus stop where he subjected her to an instantaneous and very, very severe physical assault and indeed he struck her over the head with some sort of blunt object many, many times," said Det Supt Wallen.
"She sustained what I can only describe as a very, very serious head injury."
'Badly traumatised'
Det Supt Wallen said her attacker knocked her unconscious before carrying out a serious sexual assault and "leaving her for dead".
He said the victim was recovering from her injuries in hospital and had been "left very badly traumatised by the ordeal".
He added: "This man needs to be caught very, very quickly. He's a very dangerous individual."
The suspect was described as Asian or Middle Eastern, aged in his early 20s, slim, with receding black hair. He was wearing dark clothing and possibly a light blue coat.
Police described the attack as "extremely rare" and have increased patrols in the area. They said they were keen to hear from a woman who was seen standing at the bus stop before the incident before getting on either a number 1 or number 74 bus.