Son of former JJB Sports shop boss denies forgery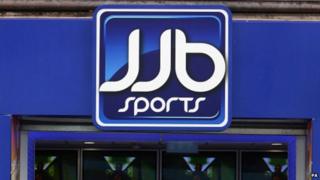 The son of the former executive chairman of the now-defunct JJB Sports shop chain has gone on trial accused of producing a forged bank statement.
Stuart Jones, 40, of Bingley, West Yorkshire, is charged with aiding and abetting his father Sir David Jones in his use of a false instrument.
The jury at Leeds Crown Court was told that Sir David would not face trial due to ill health.
Mr Jones, who worked as a marketing manager for JJB, denies the charge.
Miranda Moore QC, prosecuting, said the events covered in the trial happened in 2009.
Ms Moore said Sir David, who was "heavily in debt", took out a £1.5m loan from Dave Whelan, the original founder of JJB Sports and owner of DW Sports, without telling the board of JJB.
In 2009, just before JJB was to go to the market to raise capital, the company became aware of rumours that Sir David had received money from Mr Whelan.
Ms Moore said: "Sir David Jones denied categorically in telephone calls and by email that he had ever received any money from Dave Whelan or any of Dave Whelan's family."
She said Sir David received an email from Stuart Jones that read: "Hi Dad, I've sent the bank statement as requested. Love Stuart."
'Not a defence'
The statement attached to the email had the correct account information and dates for May 2009 but showed the transactions from April the same year, the jury heard.
Ms Moore told the jury the statement sent to Sir David by his son "looked absolutely perfect" and was a "super-quality forgery".
"When the board saw that, it looks genuine and they accepted it is genuine. They believed Sir David Jones' denials," she said.
"This defendant actually provided the forgery. The first time we have any evidence of it existing is this defendant sending it as an attachment to an email to his father.
"That email attaching the forgery was used to back up the lies his father was telling when someone suggested he'd taken out a loan from Dave Whelan."
"He (Stuart) helped him. He provided the forgery electronically and then he kept the myth of the forgery going by not providing the evidence which would have undermined it."
She added: "Loyalty, even to your dad, is not a defence."
The trial continues.