Ex-Leeds United chairman Ken Bates loses damages appeal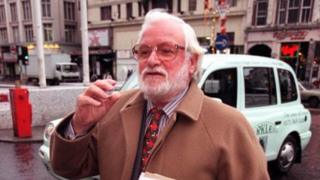 Ex-Leeds United chairman Ken Bates must pay damages after losing a case brought by a former director's wife.
Mr Bates had already been ordered to pay £10,000 to Melvyn Levi after he sued for harassment.
Now the Court of Appeal has ruled Mr Bates must pay £6,000 to Mr Levi's wife Carole, even though she was not the actual target of the harassment.
Mrs Levi appealed after her initial claim was rejected by a judge at Leeds County Court.
In that hearing in 2012, Mr Levi claimed he suffered stress after announcements on the club radio station allegedly likened him to "a fugitive".
He also claimed comments made by Mr Bates in a match day programme amounted to speculation over his marriage.
Court of Appeal judges Lord Justice Longmore, Lord Justice Ryder and Lord Justice Briggs unanimously agreed Mrs Levi should receive an award.
'Alarm and distress'
Lord Justice Briggs ruled that two articles in match programmes in 2007 constituted harassment of Mrs Levi.
He said: "Not simply because they defamed her husband but because they invited thousands of club supporters to intervene in a hostile manner, at her home, about a business dispute between her husband and Mr Bates.
"It is plainly foreseeable that, if any significant number of supporters of the club responded to Mr Bates' incitement, they would cause Mrs Levi alarm and distress by attending or telephoning her home."
The judge added it was equally foreseeable that "the mere publication of that incitement in the club's match programmes would, once it came to Mrs Levi's attention, cause her alarm and distress by an apprehension that this is what would shortly occur, even if, in the event, no supporters took up the cudgels on Mr Bates' behalf."