Halifax election: Labour opts for women-only shortlist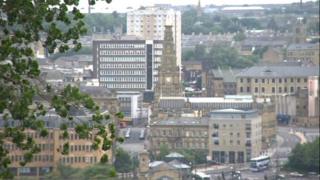 Labour has announced it will pick its general election candidate in the key West Yorkshire marginal seat of Halifax from an all-women shortlist.
MP Linda Riordan said last month she was stepping down after 10 years due to ill health.
Candidates must apply by Monday and a shortlist will be drawn up early next week by the party's national executive.
The move comes after Ms Riordan warned Labour was in danger of losing the seat unless a candidate was selected soon.
At a meeting it was decided there should be an all-women shortlist for the constituency.
'Increasingly urgent'
Ms Riordan said: "The only meeting of the members to have taken place has been a special all-members meeting to seek views on holding an open selection or an all-women shortlist.
"As you will be aware, a significant majority of local party members expressed their preference for an all women shortlist, something I wholeheartedly support."
In a letter earlier this week to Iain McNicol, Labour's general secretary, she said given the slim 1,472 majority, someone should be chosen as a "matter of urgency".
The 61-year-old said that with less than two months to go to polling day, it was becoming "increasingly urgent" that a candidate was selected, adding the Conservatives had been campaigning "vigorously" since the beginning of the year.
"To put it bluntly, I fear that unless we get a candidate soon, there is the very real danger of losing Halifax," Ms Riordan added.