Butterley Reservoir spillway work can start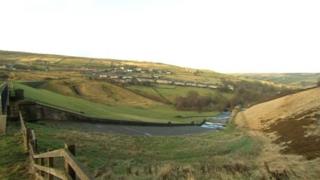 A listed Victorian reservoir spillway is to be rebuilt after a water company was given the go-ahead to replace parts of the structure.
Yorkshire Water was refused planning permission to carry out work on Butterley Reservoir's stone spillway last year but has now won an appeal.
The company proposes replacing and raising the walls and reconstructing part of the spillway's cascade section.
Local campaigners had argued the proposal would ruin the structure.
The spillway, near Marsden, West Yorkshire, was built between 1891 and 1906 to cope with overflows during periods of heavy rain.
Yorkshire Water said it was in the process of working through the findings of an inspector's report and would "liaise with representatives of the local community" while it worked on the project.
The Grade II listed reservoir had been included on the Victorian Society's list of the 10 most endangered buildings in England and Wales in 2012.