Plaque honours Leeds cancer fund-raiser Jane Tomlinson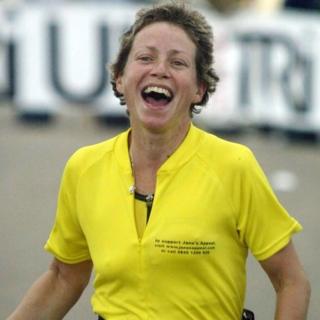 A plaque in honour of Leeds fund-raiser Jane Tomlinson has been erected at a site which was a focal point during many of her gruelling challenges.
It has been unveiled at the Victoria Gardens in Leeds, the place she passed through on some of her bike ride fund-raisers.
The gardens are also the finish line for Mrs Tomlinson's legacy event, the Leeds 10k, which is held every year.
Mrs Tomlinson raised £1.8m for charity before her death from cancer in 2007.
The married mother of three was diagnosed with terminal cancer in 2000 aged 36.
Over the next seven years she went on to record major achievements as she outlived her initial six-month prognosis.
She raised money by completing a number challenges, including the Great North Run, London Marathon and the Ironman UK Triathlon.
Along with supporters she also completed fund-raising bike rides across America and from Rome back to the UK.
The plaque was erected by the Yorkshire Society in a ceremony attended by her husband Mike Tomlinson and daughter Rebecca.