Mother admits Bradford toddler window-fall killing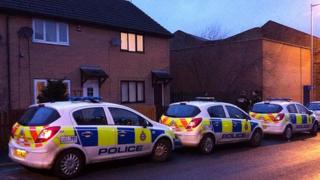 A mother who killed her 22-month-old daughter as she leapt from a first-floor window has admitted manslaughter.
Amrita Kaur died after falling from a window at a house in Bradford in February 2014. Her mother Gundeep Sangehra, 37, was critically injured.
Sanghera, of Delamere Street, Bradford, pleaded guilty on the grounds of diminished responsibility. She was given an indefinite hospital order.
Bradford Crown Court heard she had been suffering with mental health issues.
It is not known whether wheelchair-bound Sanghera threw her daughter from the window before jumping herself, or if she jumped with the girl.
The court heard she was suffering from paranoid schizophrenia at the time of the Amrita's death and believed that someone was coming to take her daughter and torture her.
She also believed that Islamic terrorists were using satellites to monitor her and were coming into her home.
Devoted mother
Judge Durham Hall QC sentenced Sanghera to a hospital order with an indefinite restriction order on her release.
He said: "This is a tragic matter Gundeep Sanghera, and you have this morning pleaded guilty, without prevarication and clearly at the earliest opportunity, to the unlawful killing of another person.
"That person is your 22-month-old daughter Amrita, who you loved deeply and you will never recover from this."
Defending, Michelle Colbourne QC said her client was "a lady of impeccable character" who had moved to Bradford seeking refuge from domestic violence.
She said: "There was nothing in her background to suggest she would ever behave in a volatile and dangerous manner.
"She nurtured and was devoted to her child."