Leeds water tower overflows flooding homes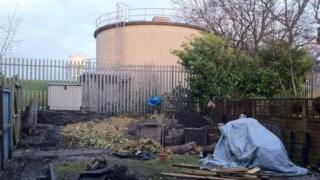 People whose houses were flooded when a Leeds water tower overflowed believe it could be several months before they can return to their homes.
Properties in the Nursery Close area of Moortown were affected on Monday when equipment in the tower failed.
Residents said flood water reached a height of around 4ft (1.2m).
Yorkshire Water, which owns the tower, said: "Unfortunately water has entered the homes of nearby residents and some will have to be temporarily rehomed."
Resident Sarah Field said: "I looked in the garden and realised we had a water garden.
"The next thing I knew, all the water just rushed straight down through all our houses."
Her husband Dene Field said the property was uninhabitable: "We have been put up in a hotel by the insurers and have been advised at the worst scenario it could be up to six months.
"No doubt we will be going into some form of temporary accommodation through them months."
Yorkshire Water said its staff were on site assessing the damage and offering help to affected residents.