Boston Spa post office 'robbers dressed as women' CCTV released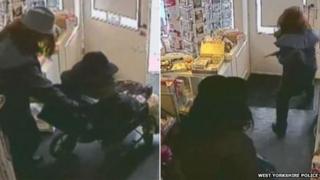 CCTV images have been released of two armed men who robbed a village post office while dressed as women, with one pushing the other in a wheelchair.
The men struck at the building on High Street, Boston Spa, on the outskirts of Leeds, at about 09:30 GMT on Monday.
A shotgun was fired and a member of staff was hit over the head with a crowbar during the raid.
A woman, aged 32, has been arrested on suspicion of conspiracy to commit armed robbery, West Yorkshire Police said.
Det Insp Phil Jackson said: "The images clearly show how noticeable this pair would have been to anyone who saw them in the moments leading up to the robbery and as they fled from the scene."
One image shows the two men, wearing women's clothes, wigs and hats, entering the post office, with one being pushed in a wheelchair.
Another shows the pair running from the building carrying a shotgun.
A Nissan Juke used in the robbery was found on fire at Beeches End in the village.
The vehicle had been stolen during a burglary in Wetherby in February, police said, bearing registration plates stolen from two vehicles in the Meanwood and Headingley areas of Leeds
It is believed the men left Beeches End in a white sports car.
Det Insp Jackson said: "A large amount of cash was recovered from outside the post office and we believe the offenders probably left empty-handed.
"This was mainly due to a number of members of the public who intervened and tried to tackle them."
The member of staff attacked with a crowbar was treated in hospital for minor injuries and later released, he added.