Arrest over Boston Spa post office robbers-in-wigs raid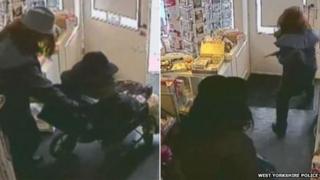 A man has been arrested after a West Yorkshire village post office was robbed by two people in wigs, with one pushing the other in a wheelchair.
Police said a 38-year-old man was arrested in the Gipton area of Leeds on Wednesday following the robbery on Boston Spa high street.
A 32-year-old woman, arrested on Tuesday on suspicion of conspiracy to commit armed robbery, is in custody.
A shotgun was fired and a staff member was hit with a crowbar during the raid.
Det Ch Insp Lisa Atkinson, from West Yorkshire Police, said: "Our inquiries are ongoing and we would still like to hear from anyone who saw the offenders or the vehicles they used in the area."
A Nissan Juke used in the robbery on Monday was found on fire at Beeches End in the village.
The vehicle had been stolen during a burglary in Wetherby in February, police said, bearing registration plates stolen from two vehicles in the Meanwood and Headingley areas of Leeds.
It is believed the robbers left Beeches End in a white sports car.