Jane Khalaf: 'Drink spiking' memorial evening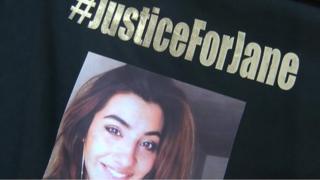 A memorial evening will be held to mark the 20th birthday of a Huddersfield student, whose parents believe died after her drink was spiked.
Jane Khalaf, a student at Northumbria University, collapsed in Cologne, Germany, in November.
She told her friends she thought her drink had been spiked and died eight days later in hospital.
Ms Khalaf's parents have organised the evening to raise awareness of the dangers of drink spiking.
Ms Khalaf was in Cologne on an exchange trip. She had been at a carnival and is thought to have taken herself to St Marien Hospital, where she collapsed.
Police investigating her death said amphetamines were found in her blood and that there was no evidence the drugs were taken by mistake.
"Anti-drugs"
Her parents criticised the German authorities for how their daughter's death was handled, saying they were "cold" with them, following their daughter's death.
Rojin Khalaf, Jane's mother, said: "Jane was full of life - intelligent, beautiful, ambitious.
"She was so much anti-drugs. We always advised her and she even advised her sister against drugs, so there's no way she would have taken them."
A statement from the Public Prosecutors Office in Cologne said: "The question of third party involvement in the death of Jane Khalaf is being clarified.
"The investigation into this aspect has not concluded."
MP Barry Sheerman, organising the memorial evening with the Khalafs, said he had written to Germany's Chancellor Angela Merkel and the German ambassador.
"We'll continue to push at every door until they're opened, we get through and we get answers," he said.
The public event will be held at Huddersfield Town Hall at 19:00.