Leeds Majestyk nightclub arson 'put lives in danger'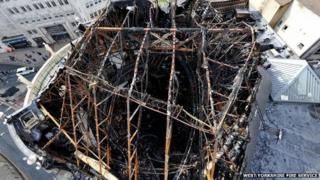 A man accused of starting a blaze at a disused Leeds nightclub placed the lives of those at a neighbouring hotel in danger, a court has heard.
Stuart Jefferson, 32, is alleged to have set the fire at the Majestyk nightclub in City Square in September.
Leeds Crown Court heard that staff and guests at the Quebec Hotel next door to the venue had to be evacuated during the fire.
Mr Jefferson, of no fixed address, denies two counts of arson.
In a series of statements read to the court, witnesses from the night spoke of seeing a fire door lying open at the Majestyk and seeing a man "apparently drunk" shouting that everyone in an adjoining hotel "should be evacuated because there was a fire in the club".
Evidence collected after the blaze showed a naked flame had been deliberately placed against the seats.
Police said when Mr Jefferson was arrested, they found a cigarette lighter, cigarette papers, an alcohol-soaked rag and beer cans in his bag.
Mr Jefferson said he was "not to blame for the fire" and, when questioned by police, he was said to have named another man as being responsible.
The court heard he claimed he had been "nowhere near the area of the fire" and "didn't know where the Majestyk building was".
Dozens of firefighters tackled the blaze on the night of 30 September at the Grade-II listed building, the home of the Majestic cinema in the 1920s.
Its roof partially collapsed but the "iconic" building was saved by firefighters.
The Majestyk closed its doors in 2006 and plans to revive the building have included creating a cinema, restaurants and a gym.
The trial continues.