Mirfield church bells silent after 144 years for restoration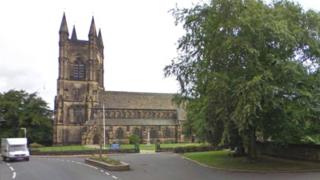 A West Yorkshire church's bells will fall silent for the first time in 144 years in order for them to be restored.
St Mary's, Mirfield, is using the 10 bells, for the last time after 144 years, to celebrate Easter.
After five months of work the church hopes to have a new ring of bells with an improved sound.
Six bells are to be melted down and recast and four are to be re-tuned. The Grade II-listed church, designed by Sir George Gilbert Scott, opened in 1871.
Scott also designed the Albert Memorial in London and Edinburgh Cathedral among many well-known buildings.
The bells are to be lowered, one at a time, through a hole in the ringing room floor down to the floor of the church.
They will be taken to a foundry in Loughborough.
The work is to cost about £90,000.