Galatasaray player apologises to Leeds fans for knife tweet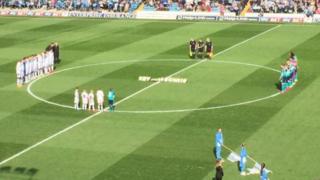 A Galatasaray player who endorsed a set of knives as Leeds United paid tribute to fans fatally stabbed before a game against his club has apologised.
Wesley Sneijder, a Dutch international who plays for the Turkish side, tweeted a promotional picture of the set.
Earlier, Leeds United paid tribute to fans Christopher Loftus, 35, and Kevin Speight, 40 who died in Turkey.
They were stabbed in disturbances on 5 April 2000 before Leeds' Uefa Cup semi-final match against Galatasaray.
Sneijder's tweet was met with an angry response from Leeds fans and was soon deleted and he apologised.
A minute's silence was held before Leeds United's match with Blackburn at Elland Road and tributes were laid in the centre circle.
A Leeds spokesman said: "It would be disappointing to see this on any day, but especially this weekend when we have a number of tributes planned out of respect for the fans who went to watch their team and never came home."
Ali Umit Demur was jailed for 15 years for the deaths of Mr Loftus and Mr Speight.
Four other men were also jailed for their part in the attack.