Memorial for 'spend, spend, spend' winner Viv Nicholson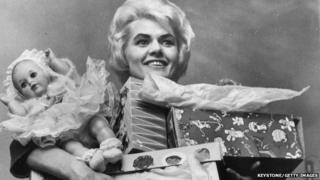 A memorial service for "spend, spend, spend" Pools winner Viv Nicholson is to be held in her home town.
Mrs Nicholson, who became famous in 1961 for saying she would spend every penny of her and her husband's £152,000 win, died aged 79 on 11 April.
A private funeral will be held on 1 May, followed by the memorial service at 14:00 BST at the Kingdom Hall of Jehovah's Witnesses on Sagar Street, Castleford.
"All are welcome," her family said.
They will gather at the Magnet Hotel, Pontefract Road, after the memorial from 16:00 to 18:00 BST and said anyone wishing to pay their respects is invited to attend.
Mrs Nicholson was a 25-year-old liquorice factory worker when she and her husband Keith, a miner, won a fortune equivalent to £3.5m today.
They made a number of extravagant purchases, including cars, jewellery and a ranch-style home.
But after Mr Nicholson's death in a car crash in 1965, his wife was landed with a huge tax bill and later declared bankrupt.
Afterwards, she struggled with alcohol and depression.