George the cat back home after 100-mile journey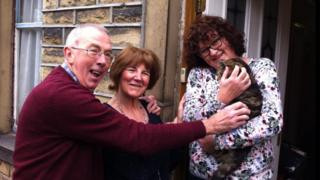 A cat that wandered more than 100 miles (160km) from its home has been reunited with its owners.
George disappeared from his home near Colwyn Bay, North Wales, seven weeks ago.
Julia Hill found the 17-year-old tabby collapsed underneath a car at her home in Brighouse, West Yorkshire.
After taking him to the vet, where he was treated for cat flu, Ms Hill posted his details on a social media site and his owner Sue Davison got in touch.
'Get into mischief'
Ms Davison said she was amazed to find that George had found his way to Yorkshire
"He's always been a curious cat getting into mischief, but nothing like this before, " she said.
"Although in a way if any cat was going to do it, it would be him."
It is not known how George ended up in Brighouse. Ms Hill suggested he may have stowed away in a caravan in the Welsh seaside resort.
She has looked after George for 10 days and said she was glad he had been reunited with his owners.
"I was going to keep George if his owners hadn't turned up but happily they have and he's going home," she said.
"He wasn't in a very good condition when I did find him but he looks much, much better now."