Taxi lands upside down on Shipley railway line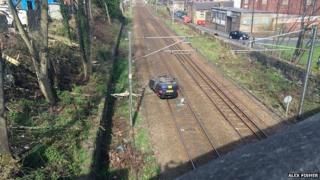 A car blocked a railway line in West Yorkshire after crashing through a barrier and flipping upside down on to the tracks.
The AA Cars taxi hit the barrier at the side of the tracks on Victoria Street, Shipley, before landing on the line.
The driver suffered minor injuries and was being treated by paramedics following the accident at 09:10 BST.
Northern Rail said services between Shipley and Skipton began running again at 11:40 BST.
Buses were brought in to run between the stations while the line was closed, extending journey times by up to 40 minutes.
A spokesman for AA taxis said the driver was "all right; just a bit shook up".