Holme Valley Mountain Rescue makes permanent move to Marsden fire station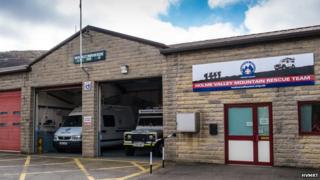 A West Yorkshire mountain rescue team officially has a permanent headquarters for the first time in 50 years.
Holme Valley Mountain Rescue Team (HVMRT) covers 1,000 sq km in the southern part of West Yorkshire.
It has rented part of Marsden fire station since 2002, but when West Yorkshire Fire Service closed the building in 2013 HVMRT raised £60,000 to buy it all.
The official opening took place earlier and is followed by a public open day.
Spokesman Owen Philips said the team was established in 1965 and carries out about 25-30 rescues a year, on both moorlands and urban areas.
HVMRT bought the building outright from the fire service in January.
It is on-call every day of the year and covers terrain ranging from rugged open moorland to built-up urban areas.
The team receives no official funding but has annual running costs of about £20,000 and assists the emergency services with inaccessible casualties, missing persons searches and helping the ambulance service during harsh winters and poor weather.
Mr Philips said most of the money needed for the building was raised by the public over the last two years.