West Yorkshire anti-housing protesters win legal review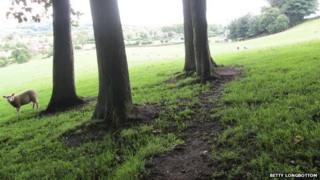 A campaign group has won the right to challenge plans to build more than 170 houses in part of West Yorkshire.
Menston Action Group (MAG) is fighting planning permission given by Bradford Council for the homes on Derry Hill in Menston, near Ilkley.
Lawyers acting for MAG said the Court of Appeal had allowed a judicial review over the plans for a Barratt Homes drainage scheme on the site.
It is thought building houses there could make flooding in Menston worse.
Alistair Kennedy, partner at lawyers Schofield Sweeney, which represented the campaigners, said: "This is a fantastic result for MAG and the residents of Menston, who are desperately worried that the proposed development at Derry Hill will make flooding in Menston much worse."
The scheme was approved by the City of Bradford Council in August.
Previously, the authority said the Menston site was allocated after a specific recommendation by a government planning inspector, not the council.
A Barratt Homes spokesperson said: "The Court of Appeal's judgement has been duly noted and we are confident that Bradford Council have a strong case when the judicial review case is heard in the courts.
"We remain committed to delivering much-needed, new private and affordable homes across the Bradford district and we are always keen to work with local communities to deliver much-needed housing in the most sustainable way."