Test drive Mazda crashes into Leeds house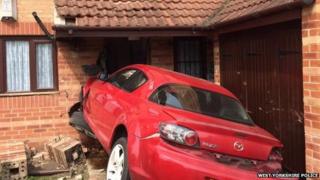 Three people in a house in Leeds were hit by pieces of flying debris after a car smashed through their front door.
The red Mazda wedged itself in the wall of the house in Thornfield Way, in the Crossgates area of the city, at about 15:00 BST.
The driver, who suffered minor injuries, was test-driving the car and told police the brakes had failed.
Leanne Best, 32, who was in the house when the crash happened, said she heard an "almighty smash".
Ms Best and her parents, who were also in the house, suffered minor injuries from flying fragments of concrete.
"There was just an almighty smash, smoke, flying debris and a load of hissing," she said.