Wakefield 'major cannabis farm' found by police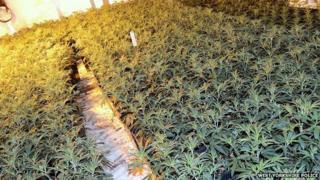 A "major cannabis farm" has been found in disused buildings in Wakefield city centre, said West Yorkshire Police.
About 2,000 plants were found behind the former Blockbuster premises in Kirkgate after a phone call to police about suspicious activity in the area.
Inside the buildings were several crops of cannabis at various stages of growth, said police.
Insp Ian Williams said: "It is going to take us the best part of two days to remove what's in there."
Officers are appealing for information about vans being loaded or unloaded around the premises.