Three arrested in Ilkley and Leeds over Makayabella drugs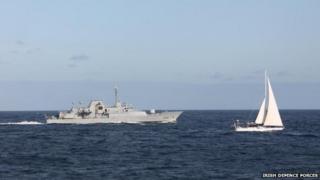 Three men have been arrested in West Yorkshire following the seizure of about a tonne of cocaine from the yacht Makayabella by the Irish authorities.
The yacht was intercepted off the Irish coast last year with 41 bales of the drug on board in September 2014.
The men, aged 31, 29 and 27, were arrested on suspicion of conspiring to import class A drugs at addresses in Ilkley and Leeds.
John Powell, of Silsden, was jailed for 10 years last week for drugs offences.
All three men were questioned and bailed as inquiries continue, the UK National Crime Agency said.
The 62ft yacht was intercepted off the Irish coast last September.
Another vessel, known as the Sea Breeze, had to be rescued from the Irish Sea after it ran out of fuel 18 miles off Rosslare, Co Wexford.
After being towed ashore, Irish authorities became suspicious at the large amount of food, drums of diesel, cannabis and satellite phones they found onboard.
Around the same time, a US merchant ship reported the Makayabella foundering in the Atlantic.
The Irish Navy sent two of its ships, the LE Niamh and the LE Roisin, to the scene and a six-man team stormed the vessel under darkness.