Man jailed for life for Leeds street stabbing murder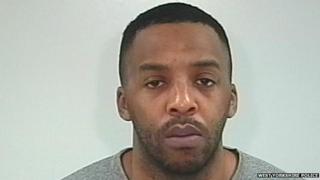 A man has been jailed for life after being found guilty of stabbing a man to death in a Leeds street.
Damien Dhers, 34, of Hessle Road, Leeds, was told he would serve a minimum term of 24 years for the murder of 31-year-old Marlon Small.
CCTV operators called police and paramedics after they saw Mr Small laying in Merrion Street in the city centre in the early hours of 1 November, Leeds Crown Court heard.
He died later in hospital.
Det Ch Insp Jim Dunkerley, of West Yorkshire Police, said: "Dhers had an irrational hatred of Marlon Small and deliberately set out to attack him.
"He then tried to evade justice and buy himself time while he invented lies about what had actually happened.
"That false account wasn't believed by detectives when he did eventually hand himself in, in much the same way as the jury saw through it at court."