Six ducklings rescued from Keighley storm drain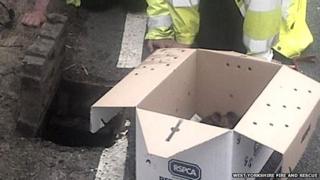 Six ducklings have been rescued by firefighters after falling down a storm drain.
West Yorkshire Fire and Rescue said the ducklings got stuck on Two Laws Road in Keighley after they were separated from their mother.
Fire officers helped the RSPCA with the rescue after the charity received reports the ducklings were trapped.
The fire service tweeted that the birds had "waddled back to their fretful mum and siblings" after the rescue.
Last month, three ducklings were rescued from a sewer in Essex after falling through a drain cover.