Mobility scooter driven on M1 motorway in West Yorkshire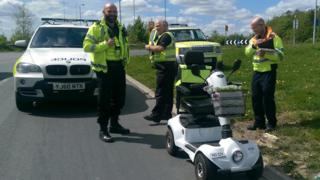 A man on a mobility scooter drove on to the hard shoulder of the M1 motorway on the outskirts of Leeds.
Police said traffic officers who helped him found the elderly man on his mobility scooter near junction 46 at 12:40 GMT.
The man was being assisted by a passing RAC patrol when officers arrived.
A spokesman said the man and his vehicle were removed from the motorway and taken home and he would not face any legal action.