New £36m Huddersfield leisure centre opens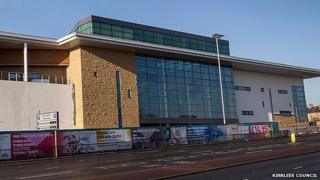 A new £36m leisure centre has opened in a West Yorkshire town.
Huddersfield Leisure Centre in Spring Grove Street replaces the Southgate sports centre.
The new leisure centre has swimming pools, climbing and martial arts facilities, and a water park.
Kirklees Council said it was funded from the sale of the Southgate site, plus additional council money that would have been used to maintain and repair the old building.
The leisure centre, which is close to the ring road, is owned by the council and run by Kirklees Active Leisure.