Pontefract's Prince of Wales colliery remembered in housing estate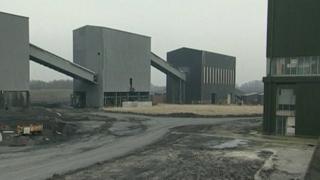 A new housing estate built on the site of a former colliery is to have three roads named in memory of its heritage.
The former Prince of Wales colliery in Pontefract, West Yorkshire closed in 2002 with the loss of 500 jobs.
Colin Butterwick Square has been named after a long-time worker at the pit who is to attend the unveiling ceremony.
Lord Lofthouse, former miner and the town's MP, and Victorian entrepreneur John Rhodes, owner of the pit's first mining rights are also honoured.
Live updates on this story and others from around West Yorkshire
Gary Foreman, a former union secretary, said: "The men had nothing but respect for Colin and his name kept cropping up when we discussed it."
"He was strict, fair, approachable, a very hands-on manager."
His name was chosen to be honoured at a reunion of ex-Prince of Wales' workers.
Lord Lofthouse who died in 2012, was at the forefront of the campaign to get compensation for miners with emphysema and other illnesses.
At its height the mine employed more than 2,200 men but when it closed about 500 jobs were lost.