Leeds General Infirmary and St James's cancel liver transplants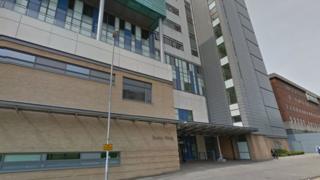 Liver transplant operations have been cancelled by a health trust due to a shortage of critical care nurses, it has emerged.
Leeds Teaching Hospitals NHS Trust said it cancelled operations and refused organs owing to a shortage of staff.
The trust confirmed it declined the offer of six livers for patients due to a lack of capacity.
Wards affected include L2 at Leeds General Infirmary and J53 at St James's University Hospital.
The news came to light after the Health Service Journal was given access to leaked documents and emails.
'Right thing to do'
In a further two cases, the trust accepted the organs for patients but then had to decline them once it became clear there were "other demands" on the beds.
Suzanne Hinchliffe, deputy chief executive and chief nurse at the trust, said it would have been wrong to commit to surgery without being sure a bed would be available after the procedure.
"We sincerely regret this was necessary but it was the right thing to do in the interests of patient safety," she added.
Ward L2, a four-bedded high dependency unit, has been closed since Christmas. Ward J53, a six-bedded ward was temporarily closed on 10 March.
Ms Hinchliffe said high A&E attendances had had a "knock-on effect" on demand for critical care beds.
The trust also said the government-imposed cap on how much NHS trusts can spend on agency staff was having an impact.
It has continued to breach the cap in order to keep safe staffing levels, it added.