Leeds industrial unit hit by suspicious fire to be 'taken down'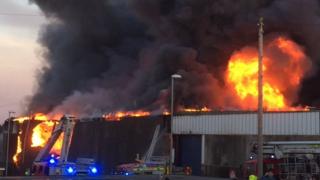 A derelict building that was hit by a large blaze thought to have been started deliberately will have to be demolished, police said.
At its height, 10 engines were sent to the scene on Waterloo Lane in Bramley, Leeds, at about 20:40 BST on Monday.
Det Insp James Entwistle, of West Yorkshire Police, said the building was "very frail" and would "be taken down" to protect the surroundings.
Eight youths have been arrested on suspicion of arson, said police.
Two boys aged 14, three boys aged 15, one boy aged 16 and two girls aged 14 and 13 years old have been arrested, said the force.
Det Insp Entwistle said the building would be demolished "within the next seven days" and it would cause disruption for several days.
West Yorkshire Fire and Rescue Service said some crews were still "damping down" at the scene.
Nearby roads had been closed and a number of local bus services were affected.
People living nearby were advised to keep doors and windows closed during the blaze.
Onlooker Heather Millars tweeted several pictures of the fire. She said: "Plenty of emergency services on site, Looks in control but building starting to collapse."
Resident Betty Taylor said: "We got a bit scared, it's spread right up the lane. I've lived here nearly 50 years and never seen anything like it."
David Appleby added: "The fire is certainly impressive. There's a tremendous amount of black smoke, I'm glad the wind is blowing in the right direction."