Eight teens bailed over Leeds industrial building fire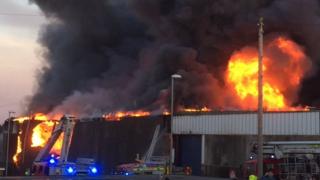 Eight teenagers, arrested on suspicion of arson after a large fire ripped through a derelict building, have been released on bail.
About 50 firefighters tackled the blaze on Waterloo Lane in Bramley, Leeds, after a fire broke out on Monday.
West Yorkshire Police said the building would have to be demolished to protect the surroundings.
Six boys, aged between 14 and 16, and two girls, aged 13 and 14, were arrested in relation to the incident.
Det Insp James Entwistle said on Tuesday the demolition process would take place within seven days and it would cause disruption for several days.