Man injured trying to prevent car being taken with son inside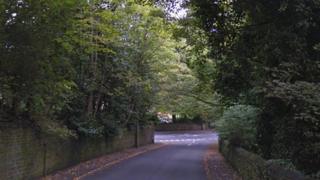 A father suffered "significant leg injuries" as he tried to stop his car being taken with his son inside.
Police said the driver beeped at a man walking in the middle of Cleveland Road, Huddersfield on 30 May.
The pedestrian broke the car's window, pulled the victim out and reversed the car. The victim grabbed the steering wheel but the man drove over his leg.
The car hit a wall before the man got out, stood on the victim's other leg and ran off, police said.
'Frightening experience'
The victim, aged 38, suffered injuries to both legs and minor injuries to his head, arms and torso during the incident. His 13-year-old son was not hurt.
The suspect is described as black, in his 30s, tall, of muscular build, with a pointed jaw line and facial stubble. He was wearing a Bluetooth headset.
Det Con Mick Cummings said: "This was clearly an extremely frightening experience for the victim and his son.
"The victim has suffered nasty leg injuries trying to stop this man from driving away in his vehicle with his son still inside."