Wakefield family fundraise to return father's body to UK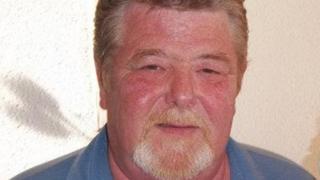 More than £22,000 has been raised to bring back the body of a Wakefield lorry driver who died while working in Italy.
Paul Stanyard, 60, died in his cab in Ancona during a break last month.
The firm he worked for told his family its insurance did not cover the cost of repatriating him as he died of natural causes.
Mr Stanyard's family and friends launched an online appeal after he faced a pauper's burial in Italy.
More on this and other West Yorkshire stories.
His wife Pamela Hirst described the response of the haulage firm as "heartless".
'Been avoided'
She said: "It's just been awful. We just haven't been able to grieve for him properly.
"If they had just said, 'Pamela we'll get him back,' it all could have been avoided."
In a statement, Matthews International Transport of Great Yarmouth said it was "devastated to hear of the death of our employee Paul Stanyard".
The firm said it did not provide life insurance for employees, only cover for accident or injury.
"We have offered to fly the family out to Italy. We have also offered £5,000 to assist in repatriation."
It added: "We have asked that the family make contact with our Managing Director and provided them with his direct office line. We have not received a reply."
On the family's fundraising page, they claim the offer of £5,000 from the company was declined as it was given only "if we didn't speak to the press".
The company replied "no comment" when the allegation was put to them by the BBC.