Leeds Art Gallery's glass roof 'uncovered' during work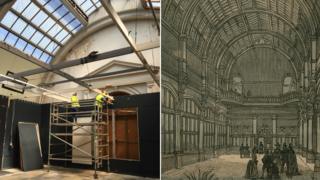 An arched glass roof space hidden for 40 years has been uncovered by workmen at Leeds Art Gallery.
A false ceiling in the Victorian building was removed during refurbishment.
The gallery is currently closed but securing the arched roof means it will not now open until October 2017.
Councillor Judith Blake, leader of Leeds City Council, said the find showed "what a unique architectural gem" the building was.
The gallery, founded in 1888 was due to reopen in spring 2017 and attracts about 430,000 visitors annually.
The council is deciding how to secure and renovate the new discovery, it said.