West Yorkshire Police's chief constable to retire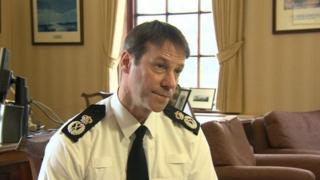 West Yorkshire's chief constable is to retire, the county's police and crime commissioner (PCC) has announced.
Mark Gilmore was appointed as the head of the force in April 2013.
He was suspended just 14 months later, in June 2014, in connection with an investigation into the awarding of vehicle contracts in Northern Ireland.
He was told he had no criminal case to answer last year and his suspension was lifted, but he did not return to his post.
During an investigation by Lancashire Police, Mr Gilmore worked on a "transition project" with the National Police Chiefs' Council, PCC Mark Burns Williamson previously said.
Originally from Belfast, Mr Gilmore started his police career with Royal Ulster Constabulary in 1983.
Mr Burns Williamson said Dee Collins will continue in post as temporary chief constable of West Yorkshire Police.
A recruitment process to find a replacement will begin "in due course", he added.