Leeds Festival drug death: Friends pay tribute to Lewis Haunch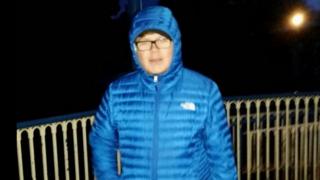 Friends of a 17-year-old boy who died after taking drugs at Leeds Festival have said they don't want him to be remembered for how he died.
Lewis Haunch collapsed at the event and was pronounced dead in hospital shortly after midnight on Sunday.
Two 17-year-old boys held in Greater Manchester on suspicion of drugs offences have been released on bail.
Erica McGuinness, a friend, said: "All his close friends will remember him for the fun person that he was."
About 40 people held a candle-lit vigil on Sunday in his home town of Leigh in Greater Manchester.
Ms McGuinness said: "Everyone's really upset, he was really popular and it was really sudden.
"We're expecting him to come around the corner and tell us it's a joke, it's going to take us a while to get it into our heads."
She added: "He was a very clever lad, so if he would have known it would have caused harm to him or anybody else he wouldn't have done it."
A total of 58 people were arrested at Leeds Festival, with the majority in relation to drugs offences.