Dying daughter calls for Bradford Andrea Dunbar memorial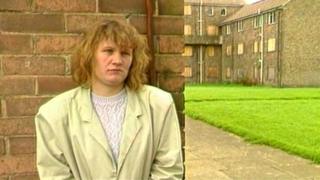 The terminally ill daughter of the playwright whose work inspired the film Rita, Sue and Bob Too has called for a permanent memorial to her mother.
The Bradford-born writer Andrea Dunbar was 15 when she penned her first play.
The British comedy film Rita, Sue and Bob Too, based on life in the city's Buttershaw Estate, was released in 1987
Lisa Pearce, 36, who has cancer, said: "I'd like to see something that marks her name in Bradford because she put Bradford on the map, really."
Dunbar died in 1990, aged only 29, from a brain haemorrhage.
Her first staged play The Arbor was originally for a school assignment, while the follow-up was Rita Sue and Bob Too, which was written in 1982.
At the age of 18, Dunbar became the youngest playwright to have her work performed at London's Royal Court Theatre.
'Thatcher's Britain with her knickers down'
Rita, Sue and Bob Too was an unexpected movie hit when it was released. This darkly comic tale of two sexually confident working-class Bradford teenagers might have charmed the critics - but many closer to home failed to see the joke.
The play and film made Dunbar and the Buttershaw estate the focus of often unwelcome publicity.
Rita, Sue and Bob Too: A snapshot of 1980s Britain
Adelle Stripe, the author of the novel Black Teeth and a Brilliant Smile, which was based on Dunbar's life, said: "There is a blue plaque on her house at Brafferton Arbor in Buttershaw but there isn't anything that tells us Andrea was from this city in the city centre.
"You see images of David Hockney, Priestley, The Brontes, Delius, Titus Salt, but there is nothing to indicate that [she] came from Bradford and hopefully that's something we can change in the future."
Ms Pearce said: "It would be nice to see it but if it doesn't happen, it doesn't happen because God's got no words for anybody, has he? He didn't have for my mum.
"If nothing can be put in place before I go, obviously my brother will still be around to see it. But it would mean a lot."