Asad Khan death: Police find no evidence schoolboy was bullied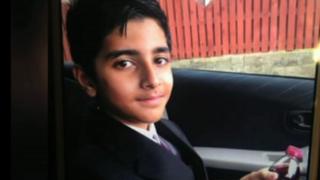 A police investigation into the death of a boy found hanged did not find any evidence of bullying, despite claims to the contrary from his parents.
Asad Khan, 11, from Bradford, was a pupil at the city's Beckfoot Upper Heaton School.
He was found hanged by his mother at his home on Tile Street, on 28 September 2016, an inquest heard.
His family believe he was being bullied, and had also raised concerns about a choking game at the school.
Det Sgt Matthew Holdsworth, of West Yorkshire Police, told Bradford Coroners' Court: "Several children said they'd initially seen Asad being bullied. When spoken to again, the actions changed and were disproved by other lines of inquiry."
He was also asked by the coroner about a video on the internet which, it had been suggested, showed two boys being forced to kiss by an older child.
However, the court heard neither of the boys was Asad.
'Notorious for bullying'
The inquest heard details from an interview with a boy who said Asad had told him he was being bullied.
The boy told police that Asad appeared to be sad, but walked off when asked about the bullying.
However, the inquest heard Asad did not leave in the way described and, instead, waited for his little brother.
An earlier inquest heard Asad died three weeks after starting at the school, and that he told another pupil he felt "unsafe".
It was adjourned when claims emerged a "choking game" was "all over the school". These claims were later dismissed as speculation.
The family, who were not in court for the start of the inquest, walked out of an earlier pre-inquest hearing over concerns about what evidence would be heard.
In a statement read in court earlier, Asad's family said they had been concerned about the school - which was Asad's fifth choice - because they had heard it was notorious for bullying.
The inquest continues.