Jury members in manslaughter trial 'offered £500 bribe'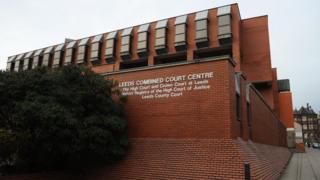 Jurors in a manslaughter trial were offered £500 bribes to fix their verdicts, a court has heard.
Three men, Shahrear Islam-Miah, Abdilahi Ahmed and Haroon Sharif, are accused of approaching jurors after they left Leeds Crown Court as a judge summed up in the trial in February.
The trial involved a cash-for-crash insurance fraud which caused the death of one of the vehicles' occupants.
The men all deny a charge of conspiracy to pervert the course of justice.
More on this and other West Yorkshire stories
Peter Moulson QC, prosecuting, told Leeds Crown Court that the men and a 15-year-old girl approached the jurors and made the offer on 21 February.
Mr Moulson said the girl "got her words wrong", telling them to find the defendants guilty.
The jury was told that the prosecution of the 15-year-old girl was dropped after psychological testing showed that she had the intellectual capacity of a child aged around eight or nine years old.
Fire Alarm
Two other jurors were approached separately by Jamie Lawson and Zafarullah Ahmad, who have admitted their roles in the plot, Mr Moulson said.
The prosecution said of the conspirators, Waqas Ahmad, who has also admitted his role, set off the fire alarm in the court canteen, triggering an evacuation.
Mr Moulson said that as the jurors gathered at a muster point behind the court building, they were filmed by Sharif from a passing car.
The court was told that the jurors who were approached reported what happened and the judge discharged the jury, continuing to hear the case by himself.
Two of those involved in the current prosecution were defendants in the original trial - Islam-Miah and Raja Hussain.
Islam-Miah, 27, of no fixed address, Ahmed, 27, of Lincoln Towers, Leeds, and Sharif, of Burnside, Hale Barn, Altrincham all deny conspiracy to pervert the course of justice.
The jury was told that Raja Hussain, 31, also of no fixed address, has pleaded guilty to the same offence along with four other men.
They are: Jonaade Hussain, 27, of Ring Road, Leeds, Zafarullah Ahmad, 21, of Hamilton Avenue, Leeds, Waqas Ahmad, 26, of Hamilton Avenue, Leeds and Jamie Lawson, 28, of Bayswater Grove, Leeds.
The trial continues.